AKIHABARAAAAA! is a district in Tokyo. But that's the only boring description you'll ever find. Appropriately named the Electric Town, it is home to an overwhelmingly large number of stores, both of electronics or other goods. But the electronic aspect isn't what makes Akihabara interesting for me. Instead, it is a centre, a gathering point, a core, a one-of-a-kind nexus of anime, manga and related popular culture.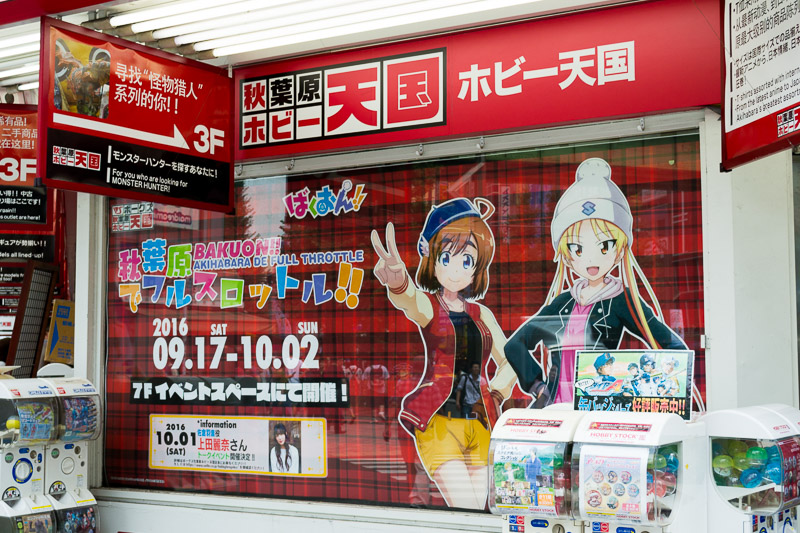 But first (sorry), let me quickly get some updates out of the way. We went to a noh event at a traditional Japanese threatre, which was fun. I got to participate in several workshops, ranging from wearing fun masks to playing on very painful drums. Then there was a real performance, which was a mixed bag, with the first part being mind-numbingly boring, and the second part sort of redeeming for the shortcomings of the first one. The only good pictures I have are ones of me being silly while playing some drums, so no pictures for you. On the plus side, we got free socks!
As a general note, I've finally gotten used to living in Japan. No longer does it bother me that I can't read most things and, the things I can read, not even understand. It's a really good learning experience! Want to know how I learned the kanji for big (大) and small (小)? They're written on the toilet, on the flushing handle. I should really do a post about the school.
Anywho, getting back to more interesting things (after going for lunch, so forgive me if my writing style changes). Akihabara! It's really really nice. You may or may not know of my love for anime (et al), so I believe an explanation is in order. I like anime. Akihabara sells merchandise that pertains to anime. Therefore, I like Akihabara. Let's see a couple of pictures of what's in store.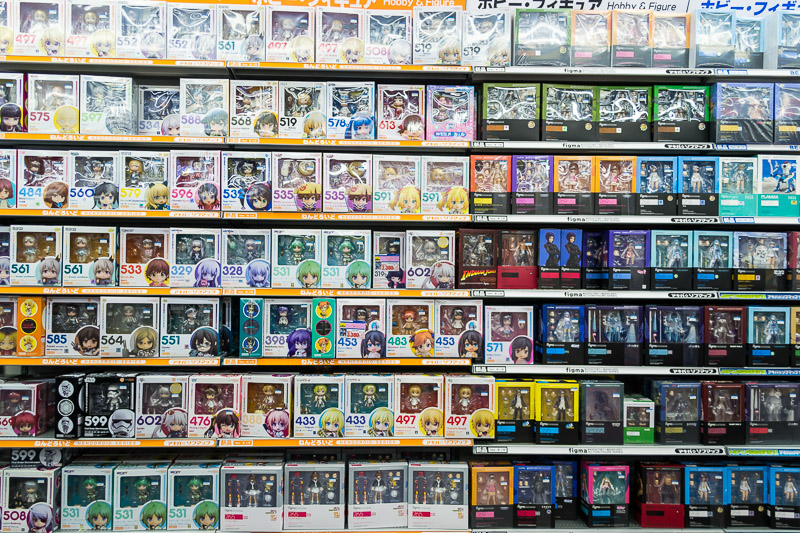 Nice huh? Well, it may not seem much to the average reader, but having an entire district filled with shops like these is a dream come true. There really are a lot of them, just look at the photo album to see.
Since I spent an entire day in Akihabara, there are 118 pictures in the album this time around. Believe me, there were many more, but I spent ample time refining the selection and editing them. Next, let's look at what I saw. This is by no means an exhaustive list, and more or less follows the photo album, but I guess it's enough for a first impression, since a day is not nearly enough to see everything.
First of all, there are a lot of things in Akihabara. Every building is covered in jumbo posters, stylish design, or anything else that's shiny and attracts attention, even more so at night. As soon as you step out the Akihabara train station you get hit by an overwhelming amount of sounds and visuals from every corner. It's also very crowded throughout the day and even more crowded in the evening. But at this point, no maids in sight.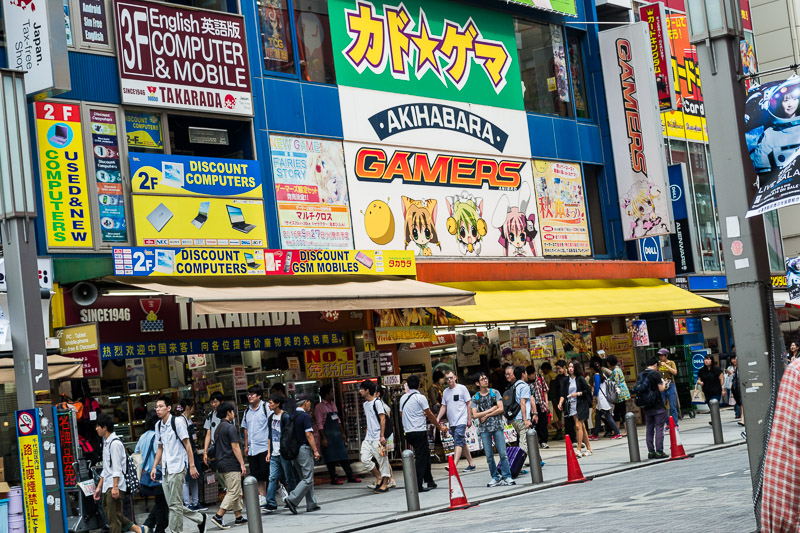 The maids are in the side streets, which contain smaller shops compared to the big department store-like ones on the main street. Sadly, taking pictures of the cute maids on the streets is not allowed (you can go to a maid cafe to do that), so no pictures of that. But let me tell you this: there is a street where, I kid you not, there is a cute maid every 5 meters, and every one of them looks at you with big pleading eyes saying "Please come to our cafe, it's really delicious!" and it really hurts to ignore them. Oh well, at least your wallet survives, as those cafes there aren't really what you could call cheap.
Next up are the insides of shops. There is a huge variety of them, ranging from premium ones from original manufacturers, to shops that sell used merchandise in an extremely good condition. A thing that's really cool, but, at the same time, a bit inconvenient is that you can buy the same kind of thing all over Akihabara, which on one hand, gives you lots of places to shop, but also means you have to search many many stores to find things you're looking for, for a reasonable price.
The shops offer: books, CDs/DVDs/BluRays, music discs, old games, figurines, clothing, toys, pins, keychains and many more items from whichever fandom you can think of. And that's excluding the shops that actually specialize in electronics. It wasn't surprising to find western comics and characters in the stores too.
To take a break from the loud main street of Akihabara, we went to the local Kanda shrine.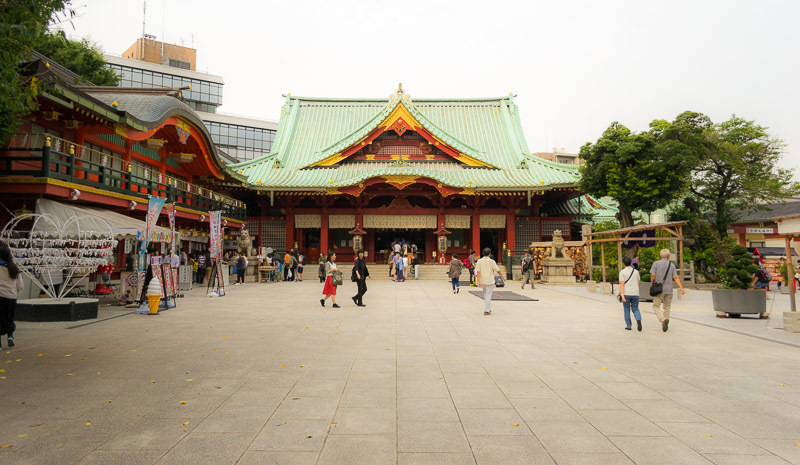 Located 5 minutes away from the main street, it's a welcome change of scenery. This shrine is a bit different to the one's I've already been to, however, as it's a bit anime-themed. The wooden wish tablets have very pretty drawings of anime characters on them, and the gift shop sells themed goodies. It's all quite beautiful.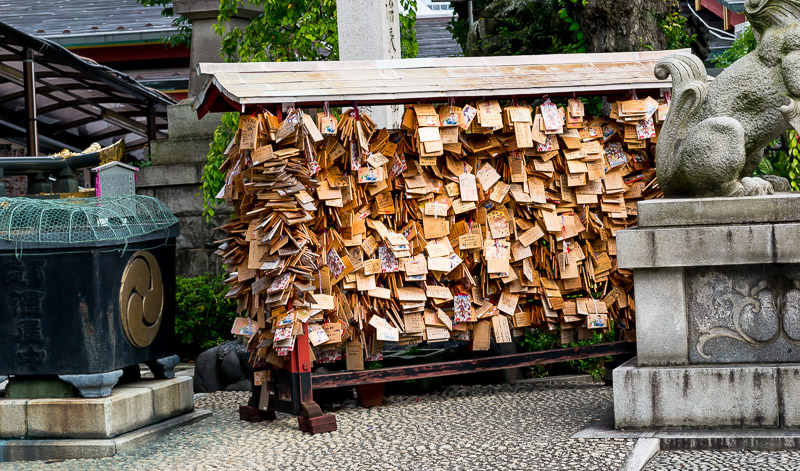 Back in Akihabara, there were more shops to see! There was a Mizuki Nana truck driving down the main street promoting her new album or single or concert or something. These things are everywhere these days. At night, Akihabara gets really shiny and it's quite a different experience than during the day.
That's kind of it for this post. See you next time!
See the full album linked to this post here (click)!